IV Nutrition Therapy To Improve  Health & Wellbeing 
If you are experiencing fatigue, stress, digesting issues, weight gain, skin issues, dehydration, and/ or you suffer from compromised immunity,  IV Therapy may be for you!  Even the healthiest people can benefit from IV-Nutrition Therapy.  Performance Athletes can also benefit from IV Therapy by enhancing workout recovery and reducing muscle soreness.  
Dr. Sultan and her qualified staff of Nurses and Nurse Practitioners offer medically supervised IV Nutrition Therapy that is full customizable. IV Nutrition Therapy allows important nutrients, vitamins, minerals, and other compounds to be introduced directly into the bloodstream. This process bypasses the need for digestion in the stomach therefore improving absorption and maximizing effectiveness. The introduction of customized nutrients and compounds can provide a wide range of health benefits to improve the overall health and well-being in men and women of all ages.  

What are the Benefits of IV Nutrition Therapy? 
Possible Benefits of IV Nutrition Therapy include:
 Improved energy / Reduces chronic fatigue

Improved immunity

Improved metabolism 

Improved gut health

Improved mental clarity

Increased absorption of vitamins & minerals from food sources

Increased hydration

Improved sleep quality

Improved organ function

Improved detoxification 

Improved skin health and beauty

Improved bone health 
IV Nutrition Therapy is available at Vitalogy Wellness and Med-Spa in Homewood, Alabama (a suburb of Birmingham, AL)
How many times should you have IV Nutrition Therapy?
Depending on the reason for IV Therapy Dr. Sultan may recommend a treatment as often as once per week for 3-months to get the full benefits. Performance Athletes can benefit from as many as 2 treatments per week to replenish their bodies efficiently. 
Can I have IV Therapy if I am on Semi Glutide for weight-loss?
Yes, we offer medically supervised programs and IV therapy is safe since it by-passes the gut completely. 

Did You know that IV Nutrition Therapy can help with many chronic physical illnesses and also improve Mental Health? 
Yes, Vitamin Infusion (IV Nutrition Therapy) is beneficial for those suffering from pain, weak immune system, chronic illnesses as it can help to reduce inflammation in the body. Intravenous Nutrient Therapy can also help to reduce symptoms associated with anxiety and depression by providing the nutrients necessary for healthy brain function. ALL OF OUR IV-NUTRIENTS ARE VEGAN!! FDA APPROVED and contain no Parabens and no Synthetics. 

How can IV Nutrition help with Weight-Loss and Weight Management? 
Intravenous Nutrient Therapy (Vitamin Infusions, IV Nutrition Therapy) can aid in weight loss and management of weight (maintaining healthy weight) by helping to control cravings for sugar and other unhealthy foods and  promoting healthy eating habits. In addition there are specific ingredients (nutrients and minerals) that help by suppressing appetite and boosting metabolism.
Is there a IV Therapy that can help with Skin Health and Beauty? 
Yes, we offer IV Therapy that contain important antioxidants and nutrients that can help to optimize your skin's health.  Ask us about our IV Therapy options.

Can IV Nutrition Therapy help to reduce Belly Fat? YES!!
 IV Nutrition Therapy can reduce inflammation in the body which in turn can help to reduce fat storage in the abdomen. 
Why is IV NutritionTherapy particularly beneficial for middle aged men and women?
 Aging can cause a range of potential health issues and chronic diseases as well as a reduction in normal hormonal function. In order to help reduce the risk of developing health conditions as you age, it is important to include Bioidentical Hormone Replacement therapy (BHRT), maintain a healthy lifestyle with regular physical activity and commit to a balanced diet. As mentioned previously, IV Nutrition Therapy can help to improve many health conditions caused by aging and can further augment the effectiveness of Bioidentical Hormone Replacement Therapy (a more natural approach to traditional hormone replacement therapy)
 As we age some common health issues include:
Digestion issues

Weight Gain

Imbalanced Hormones

Sleep Deprivation 

Lack of Sexual Desire 

Muscle Loss 

Chronic Inflammation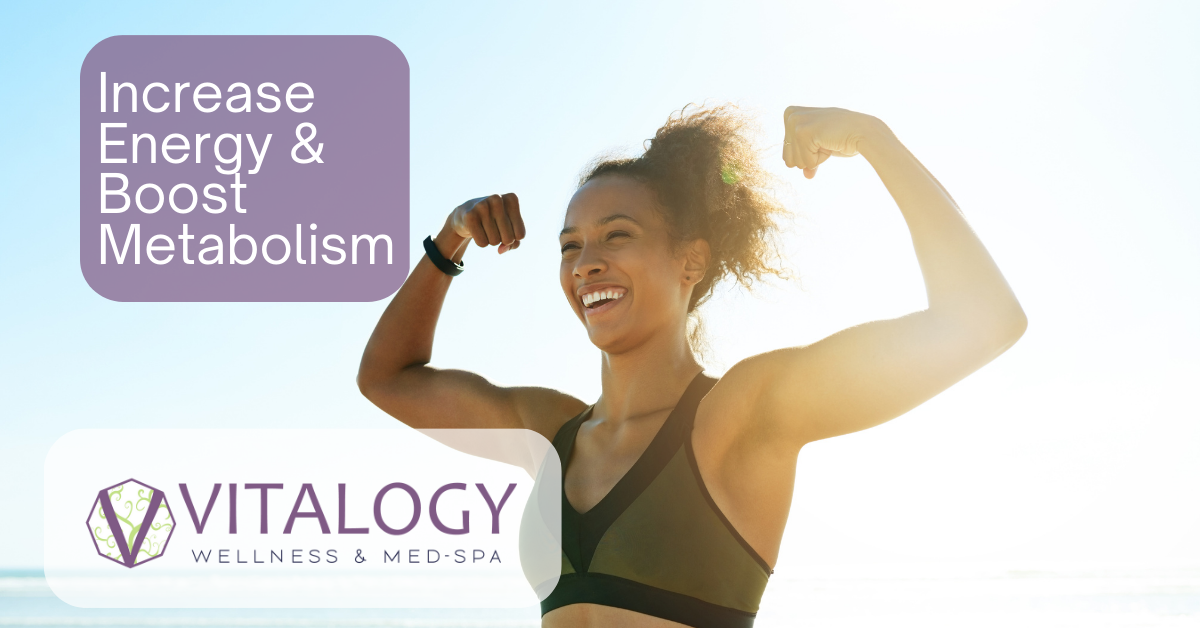 Whether combining customized IV Therapy with BHRT (Bioidentical hormone replacement therapy), or adding it to a personalized wellness plan tailored specifically to each patient's needs, IV therapy can help to enhance all efforts and augment your journey to better health and improved wellbeing. 
Now that we have discussed the benefits of IV Nutrition Therapy let's talk about why Vitalogy Wellness & Med-Spa located in the Birmingham, Alabama area (Homewood, AL) is a great choice for IV Nutrition Therapy.
Why Choose Vitalogy Wellness To Help Improve Your Overall Health? 
Dr. Farah Sultan, our Medical Director and experienced Functional Medicine Physician implemented IV Nutrition Therapy as part of the comprehensive Wellness and Nutrition programs offered at Vitalogy Wellness, because she is passionate about offering holistic alternatives to traditional medicine in order to help women and men reach their health and wellness goals more effectively without potential long-term side effects caused by many prescription medicines. 
Dr. Sultan and her qualified staff offer a variety of wellness therapies such as Bioidentical hormone replacement therapy, female and male rejuvenation, nutritional programs, medical massage therapy, physician supervised weight-management, and more.  All wellness therapies offered can  help individuals who may be struggling with deficiencies due to aging or other factors affecting their health. Browse our site to learn more about us. 
Can You Use Medical Insurance for Services provided at Vitalogy Wellness & Med-Spa? 
No, we do not accept any medical insurance, however we offer convenient 0% interest payment programs through Cherry Finance and Care Credit Plans to qualified applicants. Learn more about financing.   Treatments are affordable and start as low as $250 for a single treatment. 
Ready to book a consultation with us?  Feel free to submit the form with your information below or call us 205-859-2136 to request more information or to book your initial consultation or treatment. 
Wellness Appointment Request
"*" indicates required fields