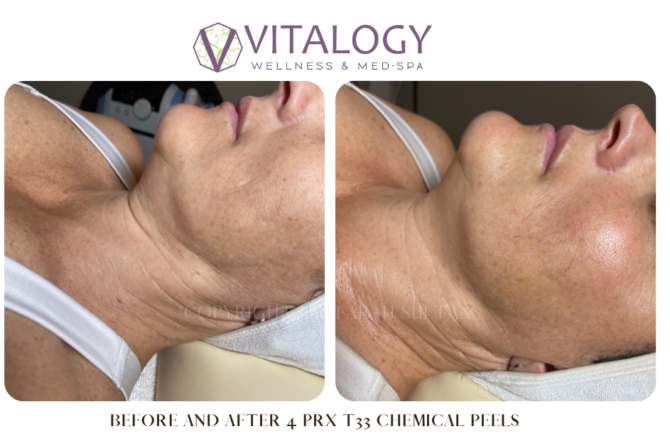 The Best Chemical Peel on the market today is now offered at Vitalogy Medical Spa in Homewood, Alabama!  
What is a Biorevitalization PRX T33 Non-Peeling Peel?
A biorevitalization peel (PRX-T33) is a skin tightening peel without exfoliation. It is an improved formula of a trichloroacetic acid (TCA) peel. PRX-T33 is a non-peeling peel that was developed as a treatment for children with scars, it is revolutionary for correcting facelift scars, stretch marks, and sagging skin.This is a perfect solution for those patients who do not want the downtime of a treatment like Fibroblast skin tightening but want similar results.
How Does the PRX-T33 Biorevitalization Peel Work?
The PRX-T33 contains a combination of trichloroacetic acid, hydrogen peroxide and kojic acid. The peel penetrates deep and acts on the epidermal layer down to the basal layer, stimulating it to regenerate and renew. It is able to remove toughened skin without damaging the epidermis at all.
Interested in this treatment? Request your consultation with one of our skilled estheticians by submitting your info below. 
Med-Spa Appointment Request
"*" indicates required fields
Leave a reply